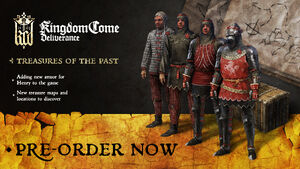 Treasures of the Past is a DLC for Kingdom Come: Deliverance. It is available by preordering the game and for all the backers.
The DLC adds to the game a map leading to a hidden chest where you will be able to find a new 4 layers armor decorated with Warhorse Studios' symbols for Henry.
Description
Treasure maps of the lords banished by King Sigismund of Hungary, leading to the hidden treasures of those patriots, bandits and schemers. The mythical armor of the Warhorse tribe. Shrouded in mystery - it is said that the original wearer purged all the dragons from the Kingdom of Bohemia. The pre-order bonus will be available also to all backers of the game.