"Beware, Sir Knight!"
Benedictine Monks have warned that this manuscript contains spoilers.
Heed our warning!
Your graces, I have to tell you in all seriousness, that this land of ours is in the shit. Deep, fucking shit.
Sir Hanush of Leipa is the acting Lord of Rattay in 1403, and was the distant relative of the rightful lord, the young Hans Capon. Although Hans refers to him as "Uncle", this is probably a simplification of their relationship and familial status.
Biography
Heir of Ronov Family, Sir Hanush was a good friend of Radzig Kobyla, lord of Silver Skalitz and of Sir Divish, Lord of Talmberg. Following the razing of Silver Skalitz in 1403 by King Sigismund of Luxembourg, Lord Hanush provided shelter to the newly displaced refugees of the village, including Sir Radzig, offering them the lower castle of his city as a temporary home. The young lord Hans Capon, the rightful heir of the city of Rattay, was also under Sir Hanush's care at that time, waiting to grow up and finally reign as a Lord.
In contrast to the more quiet and serious Sir Radzig, Sir Hanush is depicted as boisterous and jovial in attitude, with a penchant for martial combat. Like many of that era, he appeared to be a religious man, and attended church in the evenings.
However, he takes his role as acting ruler of Rattay very seriously, and seems to genuinely care for his subjects. When Hans gets into strife during Keeping the Peace, and later in Next to Godliness, Hanush has no problem disciplining his ward, and warns him that a Lord is only a Lord so long as the people accept him - and the people will not accept a drunken, spoilt lout. To that end, he will even send Hans away to live with his mother, rather than allow him to rule incompetently.
He is also skilled in politics, dispatching Henry in Waldensians to assist the visiting Vicar in finding heretics - or, ensuring he does not find heretics, as the case may be, as such an event could spell trouble for Hanush.
Codex entry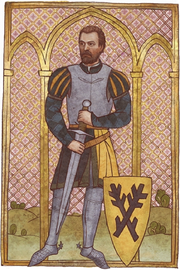 Following the death of Jindřich III of Pirkštejn (Henry III of Pirkstein) in 1402, Hanuš of Lipá (in KCD Hanush of Leipa) became the guardian of the former's son, Jan Ptáček (in KCD Hans Capon) and thus the acting governor of the surrounding province. He completed the construction of Pirkstein and its fortifications and the local church of St. Matthew, which contains a shrine to his family.
When Sigismund of Luxembourg invaded and burned Skalice (Skalitz), the town's Burgrave, Racek (Radzig) Kobyla, and the survivors of the raid found refuge with Hanuš. Hanuš subsequently took action against scattered groups of brigands and Cumans.
His relationship with the king was peculiar to say the least, judging by often contradictory sources - it appears that in 1410 crown forces descended on the town of Rataje (Rattay) in Hanuš' domain, probably after he became a robber baron and rebel, who may also have participated in the siege of Jihlava in Moravia. Nevertheless, in 1414 he became a Provincial Marshal and dwelt together with his wife Markéta of Šternberk (Sternberg) at Špilberk in Brno.
Notes
Gallery